In companies many people live with paperwork in their day to day. "I need you to send me the signed document as soon as possible, please." "You have received my message? When you can, stop by the office to sign the contract".
Phrases like these resonate between the walls of the offices day after day. Printers, sheets, scanner… All with the aim that the documents are signed and validated as soon as possible. But, did you know that this work routine can take a 180 degree turn?
We tell you how to use Firmafy for the first time and how to sign legally valid contracts online with Firmafy to improve the profitability of your company.
Learn to use Firmafy step by step
The first step to start signing quickly with Firmafy is to access the Rates area, located at the top of our website, to find out which plan best suits your business model.
In this case, we are going to access the free trial so that you can see first-hand all the advantages that Firmafy offers at no cost. Afterwards, you can decide which plan you want to join.
1. Fill in your details and create your password
Once you click Start and access the free trial, the next step is to fill in all the information that you are asked to create your own account and be able to access your personal profile, from which you will have access to multiple benefits.
After your registration, you will only have to wait a few minutes to receive an email in your inbox. Remember to check spam. The email that will arrive will ask you to verify your email account in order to create a password and enter your client area safely.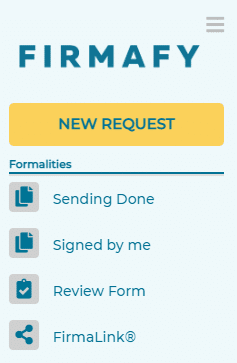 2. Set up your profile and prepare the PDF document to be signed
Once you are inside your personal profile, you will find on the left multiple functions.
To start using Firmafy it is necessary to configure the profile, so you will have to access Settings and complete all the required data.
At this step, you can prepare the PDF document to be signed.
3. Click on "New send" and make your first signature request
To send your first document you will find the "New Send" button at the top of the panel. After that, you will see several available options. In this case, choose "New Send".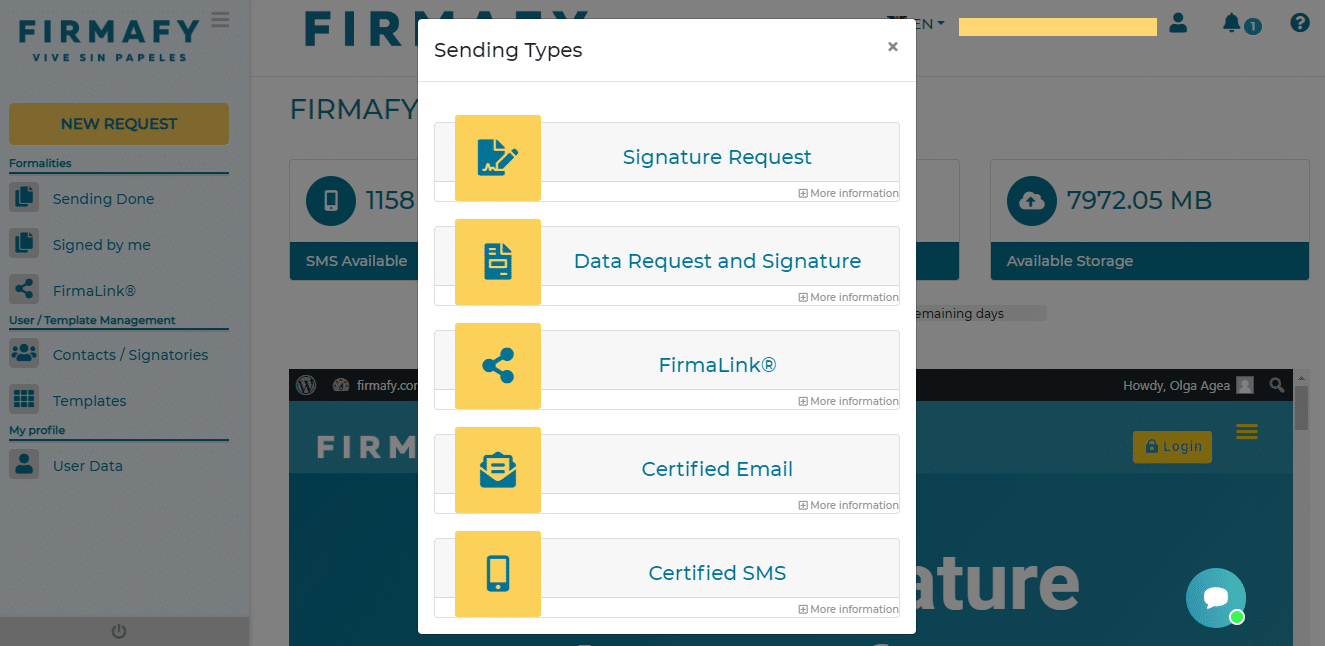 At the top, we have the option to choose the number of signatories. Below we must fill in the data of the signatories, depending on the number of people to whom we are going to send the document.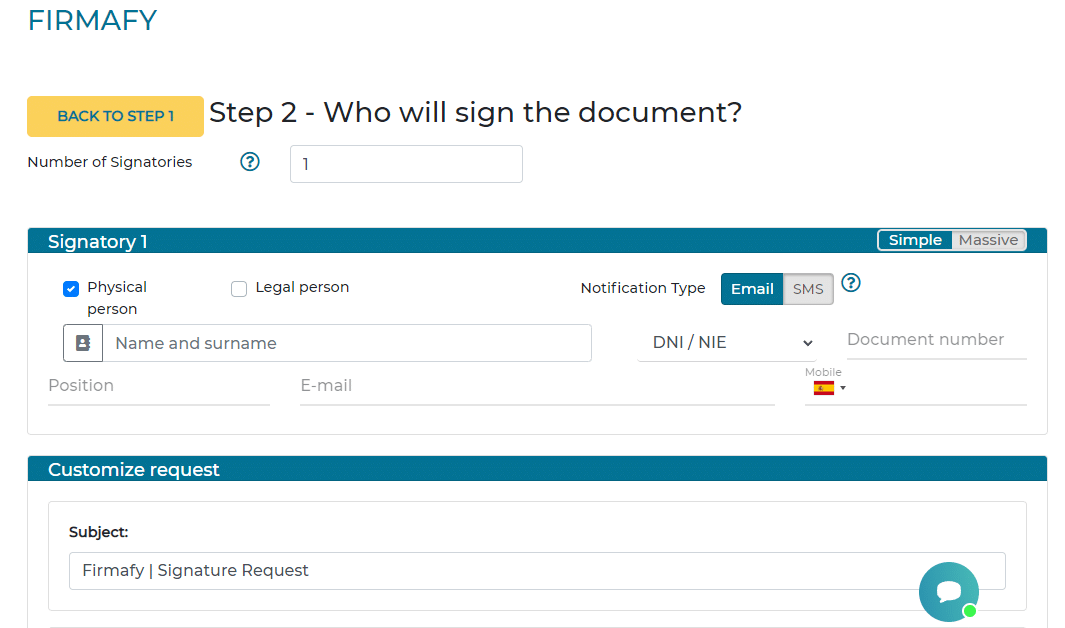 4. Import the document
Import the document to be signed. Remember: it only accept PDF format.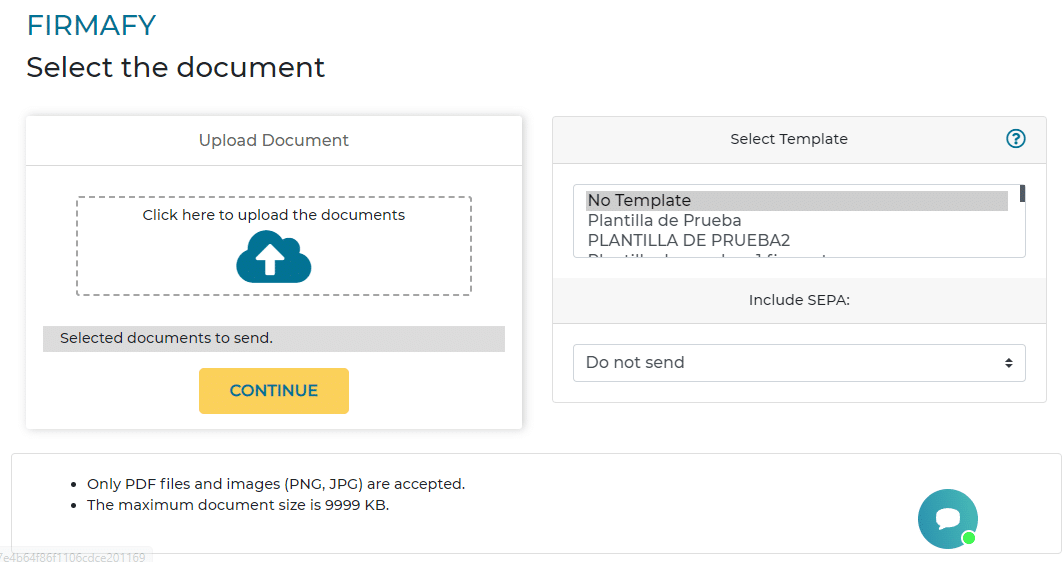 When you have already imported the document, you will have to fill in your customer data. 
Then, all you have to do is set the signature location on the document. Click on the signature box and move it to its corresponding place. Important! Just clicking the Signature Box is not enough. You have to drag it to where you want it to appear.

5. Confirm the sending of the document​
Click on "Confirm sending" and you will have finished. Ready to be signed!  At this point, you are done with the process and just have to wait to get the signed document. Your client will sign it easily and securely from their mobile.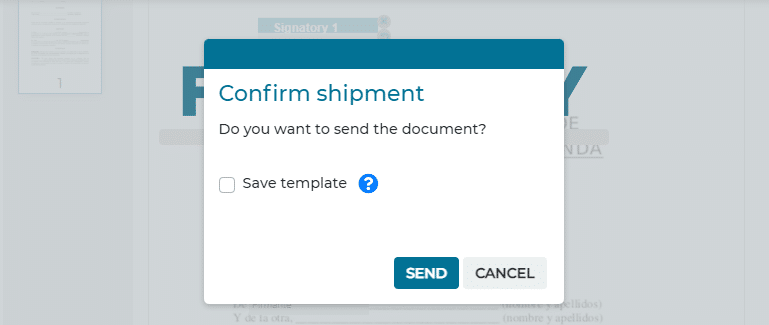 How does your client sign with Firmafy?
The signing process is very easy. They will receive a link in an email or SMS (depending on the option you have chosen). By accessing the link, the client will find a panel that specifies who sends the document. Then, they will have to verify through an OTP code that they received by SMS. This is the way to verify that they are the right person to sign.
Then it will appear a box to sign with their finger.

All the signed documents remain saved in your personal account
Whenever you need to access a document that has already been signed, you will have it available from your computer in the Procedures option.
If you access from the mobile app, you can find it in Signed by me or Sent. In addition, a legal copy will be managed for the client so that they can also have it at any time.
Do you dare to try Firmafy? Do you think it is comfortable to manage your company's documentation? Don't forget to leave your comment below. Tell us about your first Firmafy experience!